Moving can be a stressful and overwhelming experience, but choosing the right removalist can make a big difference. A good home removalist will handle your belongings with care and make sure everything arrives at your new home safely and on time. To know in detail about how to choose the right removalist, read the blog till the end.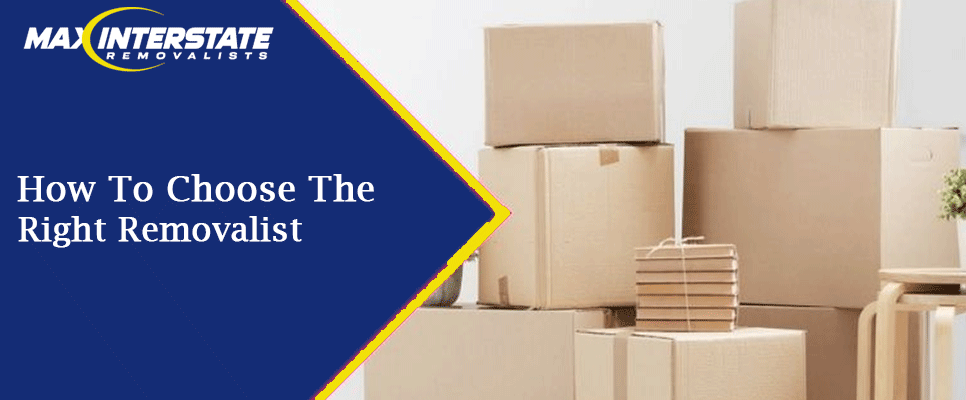 Importance Of Hiring A Good Removalist
Hiring a good removalist is essential for a successful and stress-free move. A good furniture removalist has the experience, knowledge, and equipment necessary to handle your belongings with care and ensure that they are transported safely to your new home. They can also provide valuable advice and support during the moving process, helping to alleviate any stress or worries you may have. Additionally, a good removalist can help you to stay within your budget by providing accurate quotes and transparent pricing, and can also offer added services, such as packing and unpacking, to make your move even easier. By choosing a good removalist, you can ensure that your move is handled efficiently, professionally, and with the utmost care for your belongings, making the transition to your new home a smooth and enjoyable experience.
Ways To Choose The Right Removalist
Get recommendations: Ask friends, family, and co-workers for recommendations on reliable removalists in your area. You can also check online forums and social media for customer reviews and feedback. Getting recommendations is very important in choosing the right removalists.
Do your research: Research removalist companies online, read their customer reviews, and compare their prices and services. There are many ways by which you can do your research and select a removalist company.
Check for licensing and insurance: Make sure the removalist you choose is licensed and insured. A licensed removalist will have the necessary equipment and experience to handle your belongings safely and efficiently.
Get a written quote: Get written quotes from several removalists and compare their prices and services. Make sure the quote includes everything you need, such as packing and unpacking services, insurance, and storage options.
Ask about their experience: Ask the removalist about their experience, particularly in moving items like large furniture, delicate items, and heavy items. You want to make sure they have the skills and experience to handle your belongings with care.
Request an in-home estimate: Request an in-home estimate so the removalist can assess the amount of furniture and belongings you have. This will also give you an opportunity to ask questions and get to know the removalist.
Confirm their availability: Confirm the removalist's availability for your move date, and make sure they have enough trucks and staff to handle your move. Some removalists also help you by providing 24/7 emergency removal services.
Consider their customer service: Consider the removalist's customer service and how responsive and helpful they are in answering your questions and addressing your concerns. If you find that the customer service is genuine and helpful you can trust them for your work.
Look for a professional appearance: A professional appearance is an indication of a professional service. Look for removalists who have clean and well-maintained trucks, uniformed staff, and clear signage.
Get everything in writing: Make sure you have a written contract that includes the removalist's services, fees, and terms and conditions. Read the contract carefully and ask questions if there is anything you don't understand.
Check for additional services: Ask about additional services, such as packing and unpacking, storage, and insurance. Make sure you understand the costs and terms of these services. This will help you to even get many other services as well at reasonable prices.
Make a final decision: After comparing prices, services, and customer feedback, make a final decision on the removalist you feel most comfortable with. Make sure you check everything before you make your final decision.
Choosing the right removalist will help ensure a stress-free move, so it's important to take the time to research and compare your options. Remember to get everything in writing, and don't be afraid to ask questions. With the right removalist, your move will go smoothly and you'll be settled into your new home in no time.
Hire Professionals
If you are in need of high-quality removalist services in Melbourne, Brisbane, Sydney, Adelaide, Canberra, And Perth, look no further than Max Interstate Removalists. Their team of professionals is dedicated to providing the best removalist services in the industry, ensuring that your belongings are handled with care and arrived at your new location in perfect condition. With years of experience and expertise, their professionals are equipped to handle any removalist issue you may face, from small apartments to large homes and businesses. By choosing Max Interstate Removalists, you can be confident that you are receiving the best removalist services. Contact them on 0450 606 563 today to schedule a consultation and let them help you make your move as smooth and stress-free as possible.